The 141st Run for the Roses in just a couple of hour away and there have been slight movements in Kentucky Derby betting odds. Now we will give you the latest look at which horses have been scratched and updated Kentucky Derby wagering odds. Bet in good health people!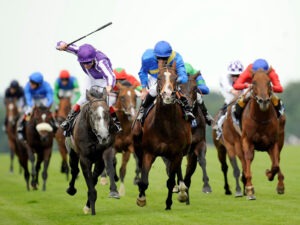 One online racebook reports that as of 10:00 AM EST this morning there were already $10,000,000.00 in wagers placed on the 141st Kentucky Derby toda which of course will be ran at 6:00 PM EST later today.
Below is a breakdown on some of the top Kentucky Derby online betting contenders and the amount of wagers currently placed on them at the Bovada racebook.
Carpe Diem has $1,019,611.00 placed on him at 7/1 betting odds
Dortmund has $1,553,090.00 placed on him at 4/1 betting odds
Frosted has $828,873.00 placed on him at 9/1 betting odds
American Pharoah has $1,930,074.00 placed on him at 3/1 betting odds
The rest of the $10 million plus in Kentucky Derby wagers has been pretty evenly spread out amongst the field. So grab your burbon, powdered sugar and mint leaves and make yourself a Mint Julep and enjoy the race. Remember, drink responsibly, but bet like a maniac! You have to pay to play. If you are planning to bet on the Kentucky Derby online then keep in mind that Mubtaahij looks to be injured and we predict him to be a Scratch by the start time of the Derby so if you bet on him, you might need to double-down on another contender as you will be getting your risk amount back if Mubtaahij is indeed scratched from today's Kentucky Derby race.